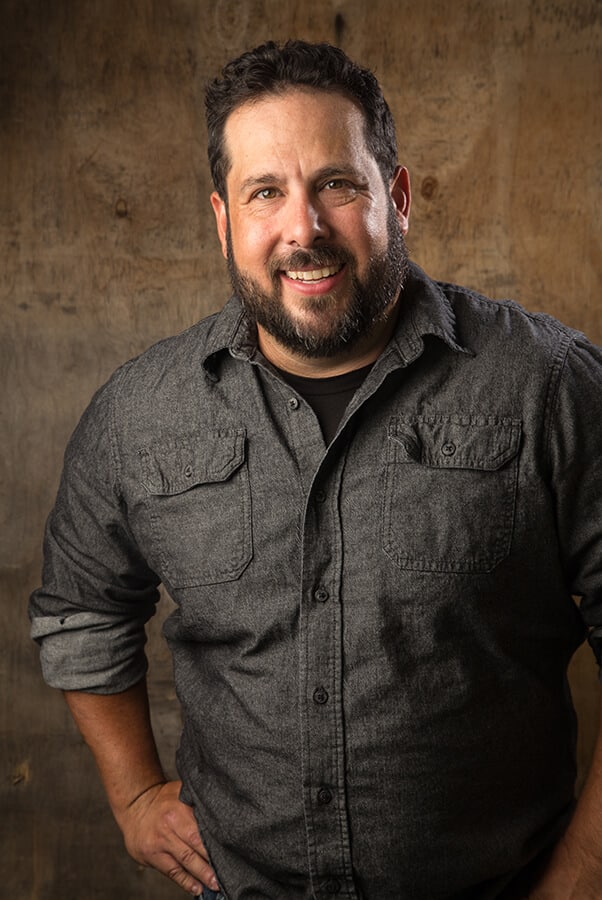 Steve Treviño
National Touring Comedian & America's Favorite Husband
You could invite him over for a nice civilized dinner with the wife and kids—or brews and barbecue in the backyard with your buddies…
Comedian Steve Treviño most certainly embodies the title of "America's Favorite Husband." Sharing hilarious observations on fatherhood, husband-hood, and modern life-hood at large, he locks into an undeniable rhythm fueled by straight-shooting honesty and a whole lot of heart. He appeals to audiences on the most relatable level by fitting right into their families. Among many skills, he can "speak wife" fluently. (If you're married, you know this language!) He takes pride in his ability to assemble his own swing sets, slides, and backyard playground projects—neglecting to "call the guys" Amazon offers at $500 a pop. (If you have kids, you know this is terrible idea!) He recognizes that his in-laws' money is "no good," but when his own parents show up, the response to the check is, "We're saving." He takes pride in the fact he's "not allowed to make [his] own decisions," as any good husband should. He loves his wife Renae so much that she wrecked his dream Silverado, and he's (sort of) okay with it. This identifiable approach affirms his status as one of the country's fastest-rising comics, viewed over 175 million times as of 2020, selling out shows coast-to-coast, amassing nearly 1 million total social media followers, and headlining specials for Amazon, NETFLIX, Showtime, and more.
Now, this "Husband" knocks on the doorstep of household recognition with an upcoming podcast alongside Renae, endless touring, and many more surprises.
"My comedy is very personal to me," he says. "My goal is to make sure that everyday married men can laugh at themselves. Life wasn't horrible for me. I didn't have this crazy struggle. I'm just an average married man madly in love with my above average wife—and I want to make her happy. I think that translates to the audience. My narrative is I'm a normal dude trying to be a good spouse and father, just like you."
The story starts in a town not so different from yours either.
Steve grew up in the "very Friday Night Lights city" of Gregory Portland, TX. Surrounded by working class industry, he describes his Vietnam Veteran dad as "one of the toughest men I've ever met." During one fateful party, Steve snuck downstairs and witnessed pops and the crew "laughing their heads off" to Richard Pryor on HBO.
 "I was like, 'How did this one man get everybody to come inside and laugh together at the same things?'," he recalls. "That's when I discovered standup comedy."
After wearing out his cousin's Eddie Murphy VHS tapes, a seven-year-old Steve commandeered the picnic table during future parties and told jokes to uproarious laughs from on-lookers.  He smiles, "My dad would be like, 'Say all of that stuff you say', and my uncles who are men that don't laugh would crack up. I found power in it. It was all I ever wanted to do."
With no comedy clubs in Gregory Portland, he picked up and moved to Dallas at 19-years-old. He lived a stone's throw from the Addison Improv where he waited tables, tended bar, worked the door, and gofer-ed for performing comedians in addition to cutting his teeth on stage. He witnessed early gigs by Dave Chapelle, Jeff Dunham, Damon Wayans, and more, stoking the passion further. In 2001, he opened up the iconic Three Amigos Comedy Tour featuring Carlos Mencia, Pablo Francisco, and Freddy Soto. By 2006, he began headlining shows of his own. He delivered side-splitting performances on The Late Late Show, Comics Unleashed, and BET Comic View in addition to writing for Mind of Mencia and producing and writing for international GRAMMY® Award-winning superstar Pitbull's La Esquina.
His first Showtime special, Grandpa Joe's Son, staked out a spot in the Nielsen Top 20. He funded, produced, and shot his 2014 runaway hit Relatable on NETFLIX. To promote the special, he uploaded a teaser clip entitled "When Your Wife Comes Home From Shopping." It exploded as a viral sensation, generating 56 million views on Facebook alone and paving the way for a series of heavily-shared clips such as "When You Ask Your Wife If She Wants McDonalds" [21 million views] and "When Going To Vegas With Your Wife Goes Wrong" [4 million views]. Meanwhile, 2018's 'Til Death maintained his momentum. Co-produced by comedy powerhouse Nacelle, Steve took over a barn in his home state of Texas under the watchful eye of Día De Muertos paintings of his family. With the cameras rolling, he delivered one of his funniest and fieriest routines.
"It's very balanced," he explains. "I get my digs in; Renae gets her digs in. Here are the joys of life. Here are the joys of marriage. Here's us almost getting divorced. Here's us having a kid. It plays like a movie, which I love. At the same time, it's a different perspective on a Mexican-American family. We're very proud of our heritage. In 'Til Death, you've got the Alamo, Mariachi, and the country. I'm a Mexican-American. The stories I tell are Mexican-American—but I'm celebrating the culture for everyone."
The material evolves as fast as his reactions do. In 2020, he performs a set anchored by hilarious home vignettes and billboard-worthy jokes such as "I speak wife" as a roadmap for husbands or "Bite the leg" as instructions for gummy bear edibles.
At the same time, he also gives back whenever possible. Steve regularly raises money for Helicopters For Heroes, an organization benefitting veterans. Towards the end of each show, he spotlights vets, police officers, first responders, nurses, and teachers and uplifts them a tribute.
Additionally, he continues to organically expand the Treviño brand. He and Renae unveiled a joint weekly podcast in 2020 entitled Steve Treviño and Captain Evil.
"It's been a very gradual hustle," he goes on. "I'm not good at bullshit; I just know how to be a good standup comedian."
Nobody is better at being "America's Favorite Husband" though.
"If you watch my standup and walk away a little closer to your partner, I'm doing my job," he leaves off. "Hopefully, you think, 'I'm not the only one going through this'. That's what comedy does. I want to leave you with a very honest image of what my wife and I are. I look at the psychology of a joke before I look at the funny of it. For as much as it should be funny, it should be therapeutic. That's what I'm here for." – Rick Florino, January 2020